Infectious Disease Cleanup
Available 24/7
Immediate Response Time
Compassionate & Discrete
Locally Owned and Operated
No Out of Pocket Costs
Covered by Home Insurance*
Licensed, Bonded, and Insured
Call (303) 944-1760
Available 24/7
Immediate Response Time
Compassionate & Discrete
Locally Owned and Operated
No Out of Pocket Costs
Covered by Homeowners Insurance*
Licensed, Bonded, and Insured
Call (303) 944-1760
Whether it's a home or business, when a person with an infectious disease has come into contact with an area, immediate cleanup is vital for the health and safety of clients and loved ones. Whether it's diseases like MRSA, C. Diff, or other bacteria and viruses, microorganisms can live on surfaces for weeks, even months, infecting anyone who comes into contact with them.
C. Diff Cleanup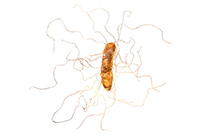 C. Diff, or Clostridum Difficile, is an extremely contagious bacteria that's resistant to regular household cleaning products. Carried by both humans and animals, the bacteria can live outside of the body, ready to infect somebody else, for 70-90 days. Though it's found most often in people who have recently taken antibiotics and in healthcare settings, it can infect anyone and be passed along any place an infected person has gone. Symptoms include:
diarrhea
abdominal cramping and tenderness
rapid heart rate
fever
blood in stool
nausea
dehydration
If you have a pet or person who's been infected in your home or business, you need to have professionals with strong, industrial-grade cleaners clean every surface that person or animal may have come into contact with.
Novel Coronavirus – COVID-19
Whether you have you had someone test positive for the Novel Coronavirus ( COVID-19) at your home or business or are looking for a vendor in the event of an outbreak, we are here to help. Give us a call so we can discuss your specific situation. Learn More
MRSA Cleanup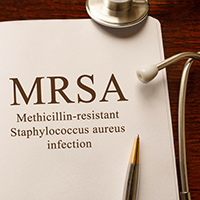 MRSA, or methicillin-resistant Staphylococcus aureus, is a staph infection-type of bacteria that has developed a high resistance to antibiotics and is extremely contagious. It's usually spread through direct contact or by touching something an infected person has come into contact with. Most often found among those with a compromised immune system such as young children and the elderly, the rate of infection has been growing in the wider population.
The symptoms will depend on the infected area but often includes:
rashes
headachesv
muscle aches
shortness of breath
cough
fatigue
fever
At Rocky Mountain Biohazard, we offer fast and thorough cleanup for all types of infectious diseases. Whether it's C. Diff, MRSA, or other bacteria, viruses, parasites, or fungi, we disinfect and sanitize every surface and object in the area with industrial-grade cleaners, making sure to go over every nook and cranny so you can be confident the area is safe for all to use.
Electrostatic Fogging Disinfection
The electrostatic fogging disinfection process is a very thorough and efficient way of decontaminating homes and offices. The fogging spray is atomized as it comes out of the nozzle head causing negatively charged droplets to spray out that then adhere to positively charged objects. The force field that is created allows for the fog to adhere to the whole object instead of just the front as would happen with a regular sprayer. This allows for a more even, thorough disinfection of any given area.
When dealing with infectious diseases, it is important that you are thorough and meticulous in the cleaning and disinfection. Electrostatic disinfection is an effective way to decontaminate areas that have been impacted by infectious diseases and other biohazards.
Don't Clean Up the Area Yourself!
Special training and expert knowledge is necessary to make sure no area is missed when cleaning up after these dangerous and infectious diseases. When an area infected by bacteria and viruses is not properly cleaned, the disease remains a threat for weeks and months to come. Cleaning an area yourself or having your staff do it without proper training makes you liable for anyone who might become sick in the future. To make sure the danger is truly gone, contact our staff for reliable infectious disease cleanup and sanitization.
Why Choose Rocky Mountain Biohazard?
Our staff at Rocky Mountain Biohazard are here to make a difficult time easier. Arriving in an unmarked vehicle, our professional crews are discreet and calm. Along with years of experience and thorough training, we are at the top of the list in knowing how to clean every kind of surface so you have peace of mind your home or business is safe to use. Fully licensed and insured, we strictly adhere to every state and federal mandate, taking pride in our professionalism and attention to detail. With Rocky Mountain Biohazard, you can be assured those you care about are protected.
Call Today For Infectious Disease Cleanup!
Call Rocky Mountain Biohazard today to discuss your particular situation and to get immediate assistance. All calls are confidential and you will speak directly with the owner 24/7 to determine how we can help you with the infectious disease cleanup.
What Clients Are Saying
Google Reviews
Contact Us
Certifications and Professional Associations

24/7 Emergency Service | Licensed & Insured | Professional | Compassionate Immediate Response Time | Locally Owned & Operated | Discrete
Rocky Mountain BioHazard • 992 S 4th Ave Suite 100-144 • Brighton, CO 80601
Ⓒ 2017-2023. Rocky Mountain Biohazard • All Rights Reserved. • Sitemap